Descendants of William LEGGE and Ann HOPKINS
William and Ann lived in Dorset, England and raised at least seven children. The family emigrated to Canada in about 1840 settling in the area of Thornhill, York County, Ontario. Two of their sons Aaron and Moses relocated to Arran Township, Bruce County in 1855. This area was then known as The Queen's Bush and had just been opened up to settlement.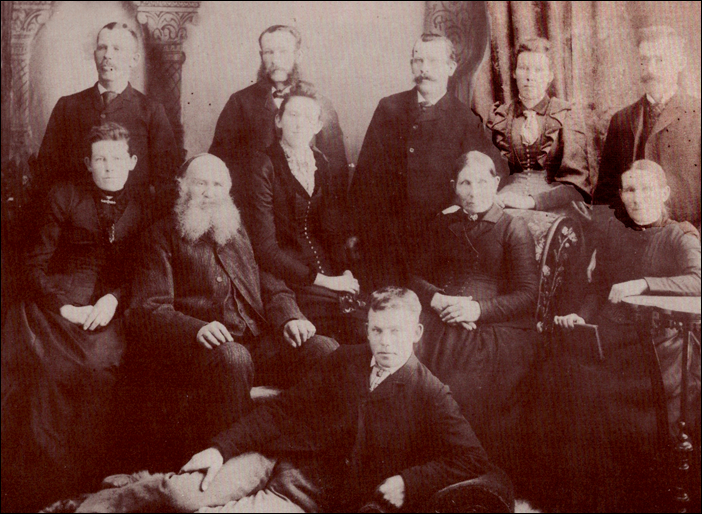 The Moses LEGGE Family; Photo from Reflections of Arran - LEGGE Family.
Back Row L to R; Sinclar, Robert, Christopher, Minnie (Mrs. STRONG), Albert.
Middle Row L to R; Elizabeth (Lizzie WOLFE), Grampa LEGGE (Moses), Caroline (Carrie STRONG),
Grandma LEGGE, Matilda (Tillie COLLINS) & Moses LEGGE Jr lying at front.



---
Table of Contents
Descendants of William LEGGE
Surname List
Index of Names
Sources (Bibliography)

---
Contact Information
Send mail to:



| | |
| --- | --- |
| Contact us by E-Mail | Please note: The majority of the data has been compiled from many different sources on the internet and the information is only as good as what has been input. Information is corroborated where possible. |


Latest Revision March 23, 2020.