Table of Contents
Click on the bar above to navigate
from page to page
You can also click on the bold titles below

Home
will bring you back to this page
Reeve's Message
Centenial Chairman's Message
Centenial Committee
1967 Dominion Centennial in Paisley
Our Governing Officials - Then & Now
Early Officials and Current Council
Street Map
Arial View
Satelite Photo
Paisley's First Settlers - Orchard & Rowe
Recollections - Mrs. Nelson Howe
Recollections - Mrs. Duncan McGregor
Recollections - Gladys McMorran
Recollections - Lauchena (Blue) Dietz
Paisley's First Circus - W.H. Reed
Excerpts from Paisley Advocate files
Trains, Railway Bridges & Stations
Bridges
Reminiscing - Miss Poast
Reminiscing - J.B. Vasey
Class Pictures 1913 - 1973
The Church of the Ascension
Methodist Church
Baptist Church
Knox United Church
Westminster Presbyterian Church
Paisley Missionary Church
Clubs, Fraternities & Societies
Erna Rebekah Lodge
Ahiram Lodge I.O.O.F.
Aldworth Lodge A.F & A.M.
Paisley Loyal Orange Lodge 734
Paisley Rotary Club
Paisley Women's Institute
Paisley Horticulture Society
Junior Farmers
C.G.I.T.
Cards & Checkers
Cemeteries
Paisley Agricultural Society
Fall Fair Pictures
The Tidings Tree
Rural Mail
Post Office
Telephone
The Paisley Advocate
Telegraph
Stark's Mill
Fisher's Mills
The Foundry
J.B. McArthur's Carriage Works
Paisley Manufacturing Works
Paisley Brick & Tile
and more ...
Thomas Orchard, John Claxton, etc.
Merchant Advertising 1867
J.S. Muir, Paisley Inn, James Bakery, etc.
Bruce Nuclear Power Development
Lacrosse
Tennis
Horseshoe Pitching
The Caledonia Society
Baseball
Curling
Lawn Bowling
Paisley Snowdrifters
Memories by Ross McKenzie
Many team photos
Some names required on picture
The 1948 Arena fire
Memories by Ross McKenzie

Arena Opening 1948 Program
- Hockey Team Pictures
Arena Opening 1949 Program
Thomas McBeath
William Wrightson
Mr. & Mrs. J.A. McArthur
Canadian Legion - Paisley Branch
Legion Ladies' Auxiliary
Memories by P. Goldie
Jim Patterson & Northern Gentlemen
Photos of other Music Groups
Our Distinguished Sons & Daughters
David Milne - Canadian Artist
Isabella Vanancy Crawford - Poet
Jean Cameron - Canadian Artist
Alexander Maitland Stephen - Author
Thomas O'Hagan - The Old Brindle Cow
Wind Storms
Fires
Snow
Floods
Guess Who & Where
The Matrimonial Market
Candid Shots
Scenes of 1974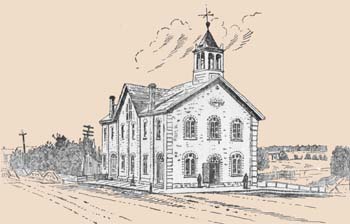 Forward
In anticipation of the Celebration of the 100th Anniversary of The Village of Paisley as an incorporated municipality a Centennial Committee was formed to organize the events of the Centennial Year, 1974.
One of the planned projects was an album to record as many events of the past and present as could be reasonably be assembled and published in book form. The result was a remarkable publication entitled "An Historic Album of Paisley".

The Album was quickly sold out and has been out of print for over 40 years.

To make this historical record available to as many people as possible it was decided to scan the contents and make it accessible on the internet.
Although the format was changed to accommodate the computer screen the content have not been changed. The album was printed in black and white but some of the original pictures were old postcards from a collection accumulated by Stien Vanderplas, many of these have been reproduced here in colour.
Since space is not restricted we have added more photographs and material relevant to the album.
If you have corrections or want to add relevant information please contact us at our
email address :

cvanderplas(at)deeprootstalltrees(dot)com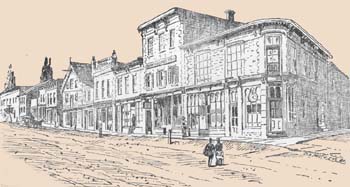 Web Site Creation
Design and Production - Case Vanderplas
Technical Assistance - Rob Vanderplas
Conflict Mediator - Kathy Vanderplas
Project Started February 2013


Click on the above banner to go to this site.

Click on the above banner to go to
The Official Caledonian Games Program.

Advertisements taken from the
County of Bruce
1867
Directory