The following is a history, in genealogical format, of the descendants of John WILSON and Frances KNEESHAW as far as I have been able to compile to date. It starts with John and Frances being married on 20 Feb. 1830, in Crambe, Yorkshire, England, Frances parents were William
KNEESHAW
and Alice HORSLEY, and as a young couple they emigrated to Upper Canada later in 1830 and settled in West Gwillembury Township, Simcoe County. Here they had a family of seven: Alice, Roger, John, Elizabeth, Mary Ann, Robert, and Sarah.
Alice (1832 - 1900) married John GARBUTT in 1850, while living in West Gwillembury they had a family of ten: Wilson married Emiline STEPHEN; William John married Sarah WIDEMAN; Walter married Janet MONTGOMERY; Wellington married Miranda UTLEY; Elizabeth (Mrs. Harry ESSARY); Robert also married a WIDEMAN ; Benjamin; Job; Mary Frances (Mrs. Robert MEDDAUGH); and Francis Rodger. In the late 1870's this family relocated to Croswell, Michigan .
Roger (1834 - 1880) married Annie WOOD in 1860 in West Gwillembury and they had one child, Mary Victoria, who married Ruben TYNDALL. Roger married again in 1867 to Jane BROLEY. They had a family of three: Charles Adolphus who married Florence MUCHESON; Florence (Mrs. William ROBERTSON); and William. Florence and Dr. William ROBERTSON had a daughter Marion Wilson ROBERTSON who married Sir Frederick
BANTING
.
John (1837 - 1907) married Elizabeth Jane
McLELLAND
in 1856 in West Gwillembury where their first six children where born. In March 1866 they relocated by oxen to Greenock Township in Bruce County where they settled on the Lots 10 & 11, Con. 14. The land was covered in bush but a cabin was on the property, here the last four children were born. Their children were: Mary Anne died at the age of ten, a year after arriving in Greenock; William John married Emily ELPHICK and farmed near Pinkerton; Eliza Jane (Mrs. Tom OSBORNE ); Francis (Mrs. Alex WRIGHT ); Rodger died at age 34; James married Barbara Ellen HUTTON and farmed on the 16th of Greenock; Mary Ann first married Albert
CASWELL
and second James FARRELL ; Robert Kneeshaw married Elizabeth
ALEXANDER
and lived on Lot 10, Con 14 of Greenock; Sarah Alice passed away at the age of twenty; and Pheobe who married Alexander
McKEEMAN
who kept a General Store in Eden Grove for some years.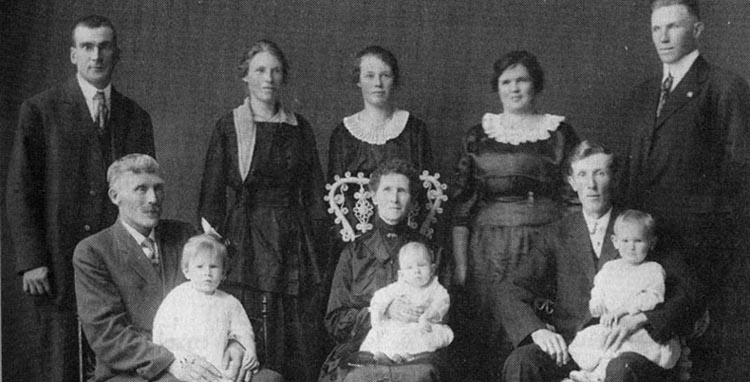 Children L to R: Annetta WRIGHTSON, Lawrence WRIGHTSON and Scott WILSON
Adults seated L to R : James WILSON, Mrs. Jas WILSON (Barbara HUTTON) and Edgar WILSON
Back Row: Jack
WRIGHTSON
, Mrs. Jack WRIGHTSON (Ida WILSON), Mary WILSON , Mrs. Edgar WILSON, (Jessie ROSS) and Wellington WILSON
Elizabeth (1839 - ? ) married Amos DOAN in 1858.
Mary Ann (1842 - 1922) married Jonathan
METCALF
in Bradford, Simcoe County in 1865 and in 1867 they relocated to Lot 14, Con. 14, Greenock Township where they raised nine children. Thomas, although he never had children of his own, was married three times to Mary Jane ELPHICK , Elizabeth ENGLISH-
CARR
, and Esther
KEYES
-
REID
; John married Sarah OSBORNE ; Mary died at age twenty; Christopher married first Charlotte
McKEEMAN
and then Maud BROWN; Elizabeth E. never married; Robert married Christina WARNICK ; Hanna Jane 'Jennie' married Thomas McAFEE ; Jonathan 'Daunt' married Louisa
ROUMEY
and lived on Lot 14, Con 14, Greenock; and Wilson married Catherine May
CRUICKSHANK
and farmed on the east half of Lot 6, Con 13, Greenock Township.
Robert (1845 - ? ) also came to Greenock with his brother John and brother-in-law Jonathan
METCALF
in the spring of 1866. He married Sarah Ann CARR in Greenock in June of 1866 and had a family of nine: John died at age eight months; Mary (Mrs. John FRASER ); Elizabeth; Frances; Abigail; Alice; Bethel; Isabella died at age eight months; and Adolph. Robert later also married Alice BOOKLEY and then Elizabeth JOHNSON .
The following pages are a record of the descendants of John and Frances WILSON that we have compiled to date. Some families are well documented while others are not, in time and with help from those who read these pages we may ultimately fill in the rest. Meanwhile I would be pleased to hear from anyone who recognizes errors or omissions or may have additional information that could be used to further enhance this history.
Bob WRIGHTSON, a direct descendant of this family has a wonderful old family picture album which can be seen here
READ-WILSON-ALEXANDER
Family Album.

Barbara
WILSON
-
RAE
-
FRANCE
is a direct descendant of this family. See her
Pedigree Chart
.
Other Ancestral Families connected to Barb are;
KNEESHAW
;
McLELLAND/ COOK
;
ALEXANDER/ READ
;
IRWIN/ RODGERS
;
GROGAN/ STEPHENSON
;
McVEETY/ McLEAN/ McTAVISH
;
MEGRAW
&
WALLACE
.
Katherine
WATSON
-
VANDERPLAS
is a direct descendant of this family. See her
Pedigree Chart
.
Other Ancestral Families connected to Katherine are;
RITCHIE
;
DAVISON/ MORAN
;
LAMB
;
BARRON
;
TAYLOR
;
BLACK
;
METCALF/ SIMKIN
;
TAYLOR
;
WILSON
;
KNEESHAW
;
RUMIG/ REISCH
&
REID/ McCULLY
.